Collaroy Plateau Progress Hall in which Collaroy Plateau Community Kindergarten resides was built in 1953 under the guidance of Collaroy Plateau Progress Association.
Collaroy Plateau Progress Association had been formed to work for improvements in the area and for the welfare of residents.
Collaroy Plateau Community Kindergarten came into existence as Plateau Playcentre Kindergarten in 1954 as a privately run centre. Plateau Playcentre was sold to Collaroy Plateau Progress Association in early 1971.
On 2nd February 1971 the kindergarten officially became known as Collaroy Plateau Community Kindergarten and changed from a privately owned kindergarten to a non-profit Community run kindergarten with one of the advantages being that the kindergarten would be entitled to State Government subsidies.
Many renovations of the building occurred over the ensuing years including renovations that necessitated the kindergartens' temporary move to a local church for 14 weeks. The kindergarten recommenced in the Progress Hall at the start of 1973 where it has remained ever since.
Due to declining membership of the Collaroy Plateau Progress Association it was decided to transfer ownership of Collaroy Plateau Progress Hall to Warringah Shire Council. The transfer was conditional, amongst other things that the Collaroy Plateau Community Kindergarten be encouraged to continue as main tenants of the Hall. Warringah Council accepted the donation of the Collaroy Plateau Progress Hall on 17th November 1987. The hall was finally sold to the council in 1992 for $1.00.
Today Collaroy Plateau Community Kindergarten continues to operate as a not-for-profit community based preschool running a preschool program for children aged 4-5 years. The premises continues to be leased from Warringah Shire Council.
Each year there are parents enrolling their children at the kindergarten who were once CPCK children themselves.
The kindergarten is managed by a Management Committee made up mainly of parents of children who attend the kindergarten. The day to day running of the kindergarten is undertaken by the Director and team of 10 other permanent staff. Our staff continue to be a very dedicated team, with the current 11 staff having collectively been working at the kindergarten for over 86 years.
60th Anniversary
Collaroy Plateau Community Kindergarten (CPCK) celebrated their 60th Anniversary on Sunday 14th September 2014 with an Open Day and Anniversary celebrations.
On what was a beautiful Spring day, a few hundred people attended to enjoy the celebrations and participate in the preschool activities on offer.
It was a great opportunity for families interested in sending their child(ren) to our kindergarten the opportunity to come and take a look at the preschool, see what we do and meet the staff.  Past and present families of the kindergarten also came along to reminisce and connect with others that attended the preschool with them.
We were very fortunate to have a visit from Warringah Mayor Michael Regan, who addressed the attendees with a fabulous speech that demonstrated his understanding of a community managed preschool and impressive skills in communicating with one of the children who presented him with an artwork.  There was also an official cake cutting with one of CPCK staff members who has been a teacher at the Preschool for 16 years.
Our Treasurer also dedicated a wooden rocking chair bench in recognition of Topsy Harris.  Topsy began an early education service for local children in 1954 in the current preschool building.  Topsy's nephew Greg was on hand for the dedication.
Some past staff came along to reminisce and to take a look around the centre and see the changes that have been made since their time at CPCK. All staff both past and present were thanked by the CPCK Management Committee for their dedication to the preschool and preschool education.  The current 11 staff have been at the centre for a combined total of 105 years!!
Entertainment on the day included a jumping castle, face painting, and a visit from Frozen's Elsa, Singing from one of current parents, BBQ and a cake stall.
There was also a memorabilia display of photos, information from the past 60 years for everyone to look through and a slideshow of class photos.
Everyone also enjoyed preschool activities such as playdough, painting, story-telling, parachute game, singing, block construction, Toby the Puppet and drawing.
Families were able to add to 'Our Neighbourhood – Our Family' mural by drawing their family.
In the weeks leading up to the Open Day, the preschool children worked on a production of canvas artworks which were auctioned on the day.
Some of the Preschool children were surprised to learn that somebody might buy the canvas artworks they had created. Now that they have grown accustomed to having them in the classroom, they now have a sense of ownership over them. There were 3-4 children debating over whose mum or dad was going to buy their class artwork.
The day included a Raffle and Silent Auction, which along with the cake stall and BBQ, raised some much needed funds for the preschool.  A big thankyou to the local business and families who gave donations.  Their details are displayed below.  We ask that you please support the businesses that supported us.
We thank everyone who attended the day for making it a great success.
Families interested in sending their child(ren) to CPCK are always welcome to have a tour of the centre.  Please contact us to make an appointment.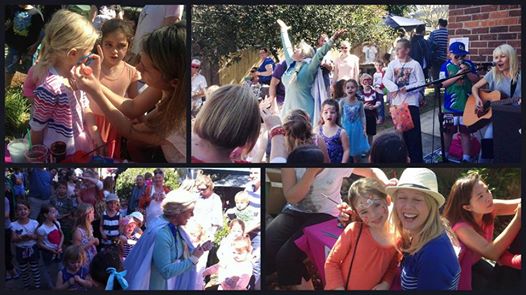 A big thankyou to the businesses and families who donated to
our Open Day and 60th Anniversary celebrations. 
Please support those who have supported us:
| | |
| --- | --- |
| BodyShape Gym | Willow Gift Shop |
| Premier Fitness | Cromer Golf Club |
| Elegance Hair & Beauty | Sheer Indulgence Hairdresser |
| Generous Soles | Pru Roddick Massage |
| Puressence Beauty | Lollipops Playland, Frenchs Forest |
| Zumba Class – Mami Cheng | Australian Reptile Park |
| Farm Fresh Delivered | Mona Vale Golf Club |
| Piya's Thai | United Cinemas |
| Harry's Butchery | Ron Howell Automotive |
| Brooke Withers Swim School | Wannabees |
| Fuel Espresso Café, Brookvale | Sports Fundamentals |
| Vision Personal Training | Fairy Magic Children's Parties |
| Complete Care Pharmacy, Wheeler Heights | Big Picture Video Productions & Video Equipment Rental |
| Wellbeing Pharmacy Collaroy Plateau | |