Edel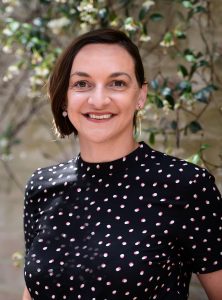 Edel O'Loughlin
Bachelor of Education (Early Childhood and Primary)
My name is Edel O'Loughlin and I am so excited to be joining the Collaroy Plateau Community Kindergarten family. I grew up in Ireland in a big family of 7 and we also had a family-run bed and breakfast so it was a busy and fun household!
I completed a Diploma of Montessori Teaching before I decided to chase the sun and come to Australia to pursue a career in Early Childhood Education. I arrived in Sydney almost 10 years ago and have worked in long day care centres and preschools across both Sydney and Canberra. I returned to study in 2016 to further develop my knowledge and skills and completed my Bachelor of Education (Early Childhood and Primary) in 2019.
I recognise partnerships with families and communities as an integral part of my role as a teacher. I acknowledge families as children's first teachers and I believe working in collaboration with each other ensures the best outcomes for children.
I love walking my dog, dining out, weekend trips exploring the wonderful Australian countryside, and listening to music in my spare time. I look forward to meeting you all soon and supporting your children's learning and development.